The impact of China's economic slowdown
The economic deceleration is mainly the policy adjustment of capacity, which is the industry of excess capacity, coal, steel, etc., which belongs to the adjustment of optimization structure.
Biopharmaceutical is a strategic industry supported by the Chinese government, especially biomedical products of new and new technologies, such as nucleic acid drugs for emerging technologies.

The impact of currency movements
The median interest rate in 2017 is 1.375% (the last time it was at 1.125%), and the rate of interest rate rises was three, more hawkish than the consensus forecast of two, according to the fed's chart. The fed also expects to raise rates to 2.125 per cent by the end of 2018, to 2.875 per cent by the end of 2019, with three rate increases.
From the distribution of global API, China has become the second largest supplier of raw materials after the United States. At present, the existing market is accumulated for a long time before the RMB exchange rate changes form, in view of the fact that the RMB appreciation is not big, and therefore have a negative impact on these enterprises export is relatively limited.

Nantong government supports
In 2016, the city's biological medicine enterprises above designated size to achieve output value 37 billion yuan, up 14% from a year earlier, mainly covering biotechnology, medicine, proprietary Chinese medicine, chemical medicine, medical equipment, medical materials, and other fields, initially formed with intermediates and apis, proprietary Chinese medicines and preparations for key product line. .
Medical health will focus on the development of nantong economic and technological development zone industrial park, haimen linjiang biomedical science and technology industrial park, nantong high-tech biological medicine industrial park, qidong biological medicine industrial park "four park", and other key industrial park and related enterprises, the biological pharmaceutical industry in 2020 sales revenue to strive to break through one hundred billion yuan.

The impact of the second child policy
According to zhongshang industry institute released "2017-2022 China's infant milk powder industry research and market investment decision-making report showed that China's infant formula market retail sales rose to 63.7 billion yuan in 2012 from 84.4 billion yuan in 2016, a compound annual growth rate of 7.3%.
Retail sales of infant formula in China rose from 375,000 tonnes in 2012 to 46.58 million tonnes in 2016, with a compound annual growth rate of 5.6%. China's infant formula market growth in retail sales and retail sales, and the compound annual growth rate is lower than retail sales, this is mainly because of increased demand for high-end product caused the price of infant formula products to continue to grow. In high-end infant formula market driven, estimates that China's infant formula market retail sales will be from 2016 tonnes in 465800 at a compound annual growth rate of 2.2% growth in 2017 is expected to reach 470000 tons.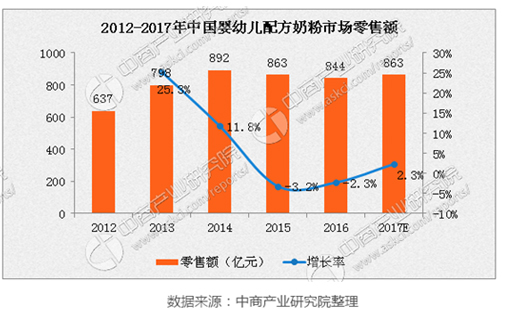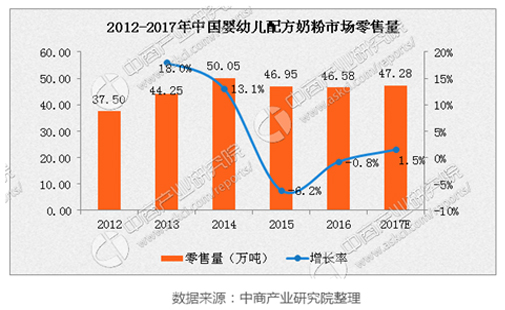 Milk powder and the pharmaceutical market
At present, the milk powder market is still the dominant market, mature market
Medicine, development stage, emerging markets
The market for anti-tumor drugs and the immune drug market is growing, and there are more and more opportunities for market segmentation. At the same time, there is great potential for non-neoplastic bio-drugs and markets for respiratory, cardiovascular, and neuropathic drugs. IMS has issued industry forecasts that the growth gap between mature and emerging drug markets will grow in the next few years. Report to 2018 years ago, the emerging pharmaceutical pharmaceutical sales market is expected to account for one-third of the total cost of the global market (market is neck and neck with the United States), and has contributed nearly 60% of market value growth (not including rebate and discount). By contrast, all developed markets, including the us, will account for only 25 per cent of market value growth. The growth potential of global markets has shifted significantly towards emerging pharmaceuticals.
API workshop
Products are used in brain disorders, alzheimer's disease, etc
For oral administration, injection, oral health care products
Citicoline has become the drug of choice for treatment of cerebral consciousness, only a minority of the drug production enterprises, most of the imports, imported raw materials about 40 tons a year in our country in recent years, the world's total consumption of 600 tons, because the citicoline has good safety, low toxicity and treatment effect is remarkable, is expected to total demand will also continue to increase, the market prospect. Cytophosphorine is used in China, Japan and Europe as medicine, and the United States as a health food management.